Practice areas
Bar and Court Admissions
United States Supreme Court
United States Fifth Circuit Court of Appeals
Louisiana Federal and State Courts
Education
Paul M. Hebert Law Center at Louisiana State University, J.D., 1987
Associate Editor, Louisiana Law Review, 1986-87
Louisiana State University, B.A. in Political Science, 1984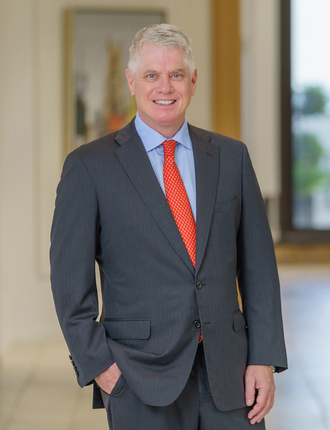 Paul J. Masinter
Member
T: 504.593.0882

546 Carondelet Street

F: 504.596.0882

New Orleans, LA 70130-3588
Mr. Masinter's practice focuses on contentious, complex litigation while concentrating primarily in the areas of business litigation, and securities litigation and arbitration. He also handles cases involving corporate disputes, breach of contract claims and unfair trade practices. Mr. Masinter is Chair of the firm's Litigation Section and Co-Chair of the Securities Practice Group. He joined Stone Pigman in 1990.
Representative Matters
Representing Maryland-based Client Network Services, Inc. in a lawsuit against the State of Louisiana for the State's bad faith termination of a $197 million contract for computer programming services. The case is pending in state court in Baton Rouge.
Representing Tennessee-based investment advising firm Consulting Services Group, LLC in a claim arising out of the collapse of an investment fund. The lawsuit is filed in federal court in New Orleans.
Represented a major securities firm in securities litigation in both state and federal courts in New Orleans.
Represented a family owned investment company in a securities claim in a FINRA arbitration in Memphis over the loss of millions of dollars invested in a bond fund.
Resolved claims against Consulting Services Group, LLC, an investment advisory firm, and some of the company's principals in securities litigation arising from the failure of Morgan Keegan's Bond Funds filed in Louisiana state court in Baton Rouge. The case not only involved allegations of securities law violations, breach of fiduciary duty and fraud but also complex issues concerning indemnity and contribution.
Represented an international liquid bulk storage company in a product liability dispute in federal court for the Southern District of Ohio (Cincinnati). The claims involved allegations that a transfer hose failed, causing damages to the facility as well as causing the company to incur significant environmental clean-up costs.
Represented an international bulk liquids trading company in an international arbitration in New York in which a judgment was obtained for all damages suffered by the client as well as attorneys' fees and costs.
Represented a major independent oil and gas company in the dismissal of a multimillion dollar oil and gas royalty and tort case tried in Louisiana state court in Vermilion Parish.
Represented a real estate developer in a Clean Water Act, mail fraud and conspiracy claims in the federal court for the Southern District of Mississippi (Gulfport).
Represented a major manufacturer of telecommunications equipment in a breach of contract/fraud action where plaintiff alleged the destruction of its business and $2 billion in damages plus punitive damages. Case filed in the federal court for the Eastern District of Louisiana.
Represented clients in FINRA arbitrations of securities law, breach of contract and unfair trade practices claims. Represented brokers in FINRA and Louisiana state regulatory investigations and proceedings.
Prosecuted and defended claims for breach of employment contracts, including claims to enforce non-competition, anti-raiding and confidentiality claims.
Professional and Civic Activities
Mr. Masinter served as law clerk to the Honorable James L. Dennis of the Louisiana Supreme Court, 1987-88. He is a member of the American Bar Association Sections of Litigation and Business Law. He is currently the Director of the Educational Programing Committee, Chair of the Meetings and Programs Subcommittee and Vice-Chair of the Publications Subcommittee for the Business and Corporate Litigation Committee of the ABA Business Law Section. He is also the former Newsletter Chair of the Committee as well as the former Co-Chair of the Business Torts Subcommittee of the Committee. He has spoken at ABA meetings on litigation and arbitration topics and has acted as an instructor for the National Institute for Trial Advocacy. Mr. Masinter also is a member of the Louisiana State Bar Association, and the Securities Industry and Financial Markets Association.
Mr. Masinter is the former President of the Board of Commissioners of the New Orleans City Park Improvement Association and continues to serve as a Commissioner. He serves on the Board of Directors of Lighthouse Louisiana (where he also serves as the Chairman-Elect of the Board), the Board of Trustees of the New Orleans Museum of Art and the Board of Commissioners of the Hurstville Security and Neighborhood Improvement District. He was also recently elected to the Board of Directors of The St. Charles Avenue Association. Mr. Masinter formerly served on the Board of Trustees of Trinity Episcopal School, where he served as Vice-Chairman and Chairman of the Development Committee. He is a past president and board member of Save Our Cemeteries, Inc.
Honors &amp Awards
In 2011, Mr. Masinter was named as a Leader in Law by New Orleans CityBusiness. Mr. Masinter has been named to the Best Lawyers in American and Louisiana Super Lawyers, and is AV rated by Martindale-Hubbell. He also was listed in New Orleans magazine as a Top Lawyer.
Presentations
Moderator, "Avoiding Discovery and Trial Practice Disasters − Tales from the Bench and Trenches," American Bar Association Business Law Section Annual Meeting, September, 2014.
Panelist, "Finishing Touches: Necessary & Appropriate Accommodations to Improve Our Profession," Louisiana State Bar Association Disabilities Summit, October 2013.
Moderator, "Keeping Cool when Betting the Company: General Counsel in Corporate Crisis," American Bar Association Annual Meeting, August 2013.
Moderator, "Daubert - More Important Than You Think in Business Litigation," American Bar Association Annual Meeting, August 2006.
Publications
Co-Author, "Securities Arbitration Law," chapter in Recent Developments in Business and Corporate Litigation, 2015 Ed, published by the American Bar Association, May 2015.
Events
In the News