Stone Pigman-Sponsored Viva Las Vegas Gurney Race Team Takes Home Trophies
The Stone Pigman-sponsored "Viva Las Vegas" gurney racing team took home two trophies from the St. Tammany Parish Hospital Foundation's 2011 Gurney Games in March. The Gurney Games consisted of teams of costumed racers navigating hospital gurneys through a challenging obstacle course. The teams raced in tandem and competed against each other for fastest time, best decorations, best costuming, spirit, dance and fan favorite.
Stone Pigman's sponsored team "Viva Las Vegas" featured a casino-themed gurney powered by a team of sprinting and dancing Elvises. The team took home two trophies: best overall team and best dance.
James Slaton, a Stone Pigman member, and his daughters join in the fun and accept the trophies with the team.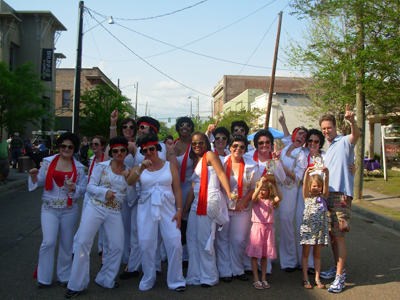 The team makes its way through the obstacle course.