Overview
Matt Almon concentrates his practice in the areas of complex commercial litigation, intellectual property, fiduciary litigation and employment disputes. He has worked on landmark cases in New Orleans, including work on behalf of Dorignac's Food Center, which culminated in the family heirs regaining control of the iconic store.
Matt has successfully defended clients against trademark infringement claims, medical malpractice claims and assertions of unfair employment practices. He is a member of the GNO, Inc. NextGen Council and the Louisiana State Bar Association.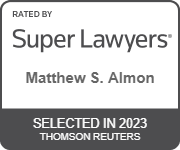 Representative Matters
Defended national civic action group against trademark infringement claim, successfully thwarting injunctive efforts upon opponent's failure to demonstrate a likelihood of consumer confusion or a compelling reason to curtail civic action group's political speech in favor of opponent's service mark.
Represented family members/trust beneficiaries in lawsuit against trustees for various breaches of fiduciary duties relating to their management of an iconic local grocery store held in trust. Ultimately obtained control and placed management of the grocery store back into the hands of the family members.
Represented major national university in lawsuit seeking to recover for breach of patent licensing agreement by a French pharmaceutical company.
Represented law firm in electronic data breach matter, assisting with investigation and providing advice on data breach notification requirements and response to breach, and successfully defended law firm against complaints to the Louisiana Attorney Disciplinary Board's Office of Disciplinary Counsel related to the data breach.
Successfully defended a district judge against charges brought by the Louisiana Judiciary Commission's Office of Special Counsel, culminating in a finding of no judicial misconduct by the Louisiana Supreme Court.
Represented national electrical contractor franchisor in trade name litigation against local company.
Represented national non-profit service organization in trade name dispute with competitor.
Defense of retaliatory discharge claims, harassment claims, and other claims of unfair employment practices asserted against employers in federal and state court actions.
Represented a number of South Louisiana nursing homes in connection with medical malpractice claims. Obtained judgment in favor of nursing home in one such matter after a bench trial, upon which all of plaintiffs' claims were dismissed. Argued the appeal of a judgment against nursing home in another such matter before the Louisiana Fourth Circuit Court of Appeal, obtaining favorable judgment reversing medical malpractice liability findings of the trial court and significantly reducing damages award for remaining claim.
Professional & Civic Activities
Professional and Civic Activities
GNO, Inc. NextGen Council member.
Louisiana State Bar Association member.
New Orleans Chapter of the Federal Bar Association Board of Directors member.
2016 New Orleans Regional Leadership Institute graduate.
Honors & Awards
Honors &amp Awards
Louisiana Super Lawyers 2021 - 2023.
New Orleans Magazine "Top Lawyer" 2020.
News & Events
In the News
Presentations
"Getting Your Writs Right," Louisiana State Bar Association Guide to Written and Oral Arguments from the Benches & Trenches Seminar, November 2018.
"Data Security and Data Breaches: How to Navigate a Complex, Seemingly Opaque Risk to Your Business," Association of Corporate Counsel, Louisiana Chapter, November 2016.
"Protecting Your Business in the Digital Age: Data Security Law and the Need for a Comprehensive Data Security and Management Plan," Data Security Compliance and Response & Internal Investigations CLE program for the Association of Corporate Counsel Louisiana Chapter, July 2015.
"A 'Duty to Google?' Professionalism and Electronic Evidence," Pro Bono Project's Volunteer Appreciation Awards and CLE, December 2014.
"Effective Advocacy: LA Rules of Evidence in the Digital World," Louisiana Justice Community Conference, October 2014.
Publications
Co-Author, "Responses to Discovery Document Requests Are Now Required to Be . . . Responsive?," ABA Mass Tort Litigation, November 2017.
Co-Author, "Expanding Trademark Law Toward a 'Merchandizing Right' - The University of Alabama Goes After the 'Houndstooth Mafia,'" Louisiana Sports Association Newsletter, January 2014.
Case Note, "Cadillac-sized Legal Fees" and "Chevrolet-type Results": Settlement Scrutiny in In re Electronic Data Systems Corp. "ERISA" Litigation, 80 Tul. L. Rev. 2007 (2006).
Practice Areas
Bar Admissions
United States Fifth Circuit Court of Appeals
Louisiana Federal and State Courts
Texas
Education
Tulane University Law School, J.D., cum laude, 2007
Senior Notes and Comments Editor, Tulane Law Review
Senior Fellow in the Tulane Legal Analysis Program
University of Tulsa, B.A. in Political Science, cum laude, 2002
Clerkships
Law clerk to Justice Catherine D. Kimball at the Louisiana Supreme Court